To some people, RV'ing is a hobby while to some it is their way of life. Whether you are taking your family out on an RV or you are looking to find a move away from them to a calm place, if you will not be planning to dry camp then you will need a power source that is more reliable.
RV generators have been designed specifically to provide you with electrical power both during the day and night regardless of the place you might camp in. This makes RV'ing much fun. It is like having a home on wheels.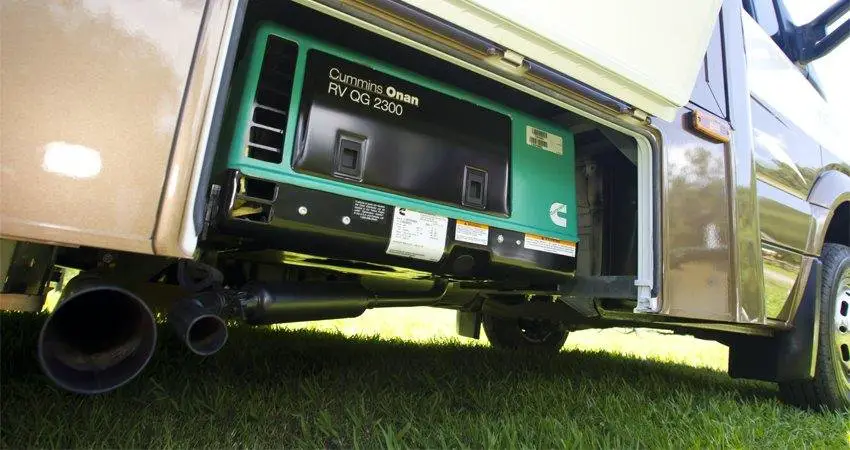 Some the best portable generators for rv camping reviews
With the popularity RV'ing is receiving across the world, there has been a significant growth in the production of RV generators. It, therefore, becomes quite hectic to choose which one will suit your needs. This article will equip you with everything you need to know ahead of buying an RV generator. Below are some of the very best products you can purchase this year.
Comparison table
1. The Champion Power Equipment 46539 3500 Watt RV Ready Portable Generator with Wireless Remote Start
With the Champion Power Equipment 46539 RV generator, be sure to forget about power outages or emergencies. This generator is portable and can be started using a wireless remote that can switch it on and off from up to 80 feet away. Its starting wattage is 4000 while the running wattage is 3500.
Besides the remote control, this generator comes with a battery for the electric start using the push button. It has an outlet that is rated 30A which is sufficient power to run most of the RV appliances such as lamps, refrigerator, fans and computers among others.
This RV generator operates from 23 feet at 68dBA. When 50% loaded, it can run for 12 hours on full gasoline tank. Its built-in volt guard also known as surge protector keeps your appliances safe from voltage spikes that are above the safe threshold. Because you might go camping in cold environments, this generator has a cold start technology that makes it easy to start in such circumstances.
The frame is made of steel and, therefore, durable. Besides, the folding handle and the never-flat tires make it easy to maneuver and transport. With the engine oil provided, all you need is the fuel and your generator will be good to go. The generator comes with two household outlets of 120V 20A, 120V 30A RV and 120V 30A locking.
The intelligent gauge has parameters such as frequency (Hz), voltage and hours that can be used to monitor the output power while at the same time tracking the maintenance intervals. This generator is sufficiently powered by a 196cc single-cylinder engine that has a fuel tank capacity of 3.8 gallons. The oil capacity is 0.6qt with an automatic shut-off sensor in case of low oil.
This product is CARB compliant and comes with a three-year warranty. This is the best of the best! Tried, tested and approved.
2. Yamaha EF2000iSv2, Gas Powered Portable Inverter Generator
The Yamaha EF2000iSv2 generator is a portable generator that operates quietly due to the in-built spark arrestor. Its advanced programming makes it a perfect tool for operating a wider range of appliances. It is lightweight, only 45 pounds in weight making it easy to transport and store.
Its Pulse Width Modulation feature ensures that the voltage stability is maintained within just positive or negative 1%.The stability of the frequency on the other end is within positive and negative 0.1Hz. This makes the power produced by this generator much cleaner.
The output power is between 1600W and 2000W. It is fitted with a smart throttle that is capable of sensing the speed of the load and controls the fuel efficiency, therefore, automatically reduces the noise produced by adjusting the engine to match the load speed. This makes it run for over 10 hours when quarterly loaded on a full tank.
Its twin tech feature makes it possible to connect two generators to yield 30A. The auto-decompression system makes it easier to start by reducing on compression. When starting the engine in cold environments, the auto warm-up will increase the engine speed, therefore, making it start with a lot of ease.
The oil watch system checks on the oil level, therefore, preventing damages to the engine that could have been caused by low oil. In case of an overload, the breaker is triggered into action. This product is approved by both EPA and CARB. It comes with two AC outlets of 120V and a DC outlet of 12V 8A meant for battery charging.
Its portability, less noise and its clean power make this generator a better alternative to our pick. If the first product is very expensive, complicated, louder or undesirable to you because of any reason at all, you can use this product instead as it will still serve as the first one.
Honda EU2000i vs. Yamaha EF2000is Sound comparison
3. Champion Power Equipment 46597 3500 Watt RV Ready Portable Generator
Champion Power Equipment 46597 3500 Watt RV Ready Portable Generator is fitted with very convenient wheels. It produces a starting wattage of 4000W and a running wattage of 3500W. The standard 30A outlet has sufficient power to run most of the RV appliances.
This generator has a run time of 12 hours at half load on a full tank. It operates at 68dBA that is from 23 feet. The built-in surge protector is meant to protect the appliances from any electrical surges that are above the safe threshold.
It is easy to start in cold conditions since it has been fitted with a Cold Start for such purposes. This generator's frame is made of steel making it long-lasting. To make it easy to transport and maneuver, the handle has been made in such a way that it can be folded. Additionally, the never-flat tires make this generator's maneuverability even much easier.
It comes with three outlets, 120V 30A RV, 120V 30A locking, and 120V 20A. To monitor and control the output power, this product has an auto-voltage regulator with a fitted voltmeter. It runs on a 196cc single-cylinder engine with a fuel tank capacity of 3.8 gallons. The oil capacity is 0.6qt. and there is a sensor that automatically shuts it off in case of low oil.
It is EPA compliant and weighs 107.8 pounds with a three-year warranty on it. This is the most budget-friendly RV generator that doubles up to be of very high quality. If you are financially-strained, but you still want a high performance generator, then it will be the perfect match for you. This is because it is available at a generally affordable price while still providing reliable services.
4. Honda EU2000I Generator - Super Quiet 2000W Portable Generator with Inverter
Do you need a higher priced RV generator that is of high quality? Look no further than this masterpiece manufactured by Honda. Operating at between 53 and 59dBA, the Honda EU2000I generator is much quieter than most normal conversations. If you plan to have quiet operations just like those during camping adventures, then this is the generator you need.
The inverter technology applied by Honda makes it lightweight, just weighing 46 pounds, and by extension portable. Its eco-throttle system improves the fuel efficiency and makes it run for between three and eight hours on a full tank of fuel depending on the load connected to it.
A clean and stable power in a small package is what you get with the Honda 2000I generator. The output outlet is 120 volts, 20 amps which is produced by the generator running at between 1600 and 2000 watts. The only issue to be worried about when buying this product is the fact that its body is made of plastic and scratches a lot.
Features to look for in an RV generator
It is now of great importance to look at those distinguishing features that will make it easy to narrow down to a specific RV generator that will meet your needs and preferences. Having these features in mind makes your search much easier. They are as below.
Different RV generators have been designed to operate on different kinds of fuels whether diesel, gasoline or liquid propane. It is important that you select a generator that will be compatible to the RV. Even before making a replacement, please make sure that you know the type of fuel that the generator you are replacing runs on.
Go for a generator that runs on diesel if the RV is also diesel-operated so that you have one fuel source for both. Diesel power is cleaner, safer and non-explosive. On the other hand, gasoline is mostly preferred because it is less expensive and easy to get. Gasoline is however highly flammable, burns quickly and has a shorter shelf-life.
Liquid propane is eco-friendly as the emissions are cleaner. It also has a longer shelf-life. Its runtime is however directly proportional to the capacity of the tank. The choice solely depends on what your preference is and the type of fuel used by the RV machine.
In case of excess power, you will most likely blow most of the circuits in the RV. On the other hand, too little power will not run most of your appliances. Knowledge of the minimum wattage that the generator can supply will help you a great deal.
Calculate the amount of power to be consumed by the appliances you are intending to use by summing up their products of voltage and amperage. This will give you the minimum power wattage you will require. Your choice of RV generator should be able to supply your appliances with sufficient power.
You need a transfer switch to turn your generator on and off automatically in case you have to install it permanently. This, however, depends on whether your RV will have to be connected to the grid.
If you plan to go places that are far away from the electric grid in your RV, then you need to carry an RV generator along with you to enjoy some of the comforts at home. A portable generator is easy to transport.
The ones with tires are much easier to maneuver and transport. Size is also a factor to consider when talking about portability. The bigger your generator, the heavier it is and vice versa. However, bigger generators produce much power compared to the small-sized ones.
Nothing is as good as a generator that produces sufficient power at noise levels that offer comfortability. Conventional generators produce noise that is between 65 and 85dB, but the RV generators produce less than half of this and hence more quiet operations.
The Champion Power Equipment 46539 stands out to be the best RV generator of the four products we have looked at. This generator is portable, which is a very important aspect of RV generators. Besides, it can be started using both wireless remote and electric start.
It produces sufficient power that runs most of your RV appliances at the same time. With it, you are rest assured that no appliance will blow off since they are protected by the volt guard. The tires make it easy to maneuver and transport.
Above all, it will last longer than expected as the frame is made of steel. These few benefits mentioned above are just a few of the several benefits you are likely to enjoy with this RV generator.
Give it a try for the best results ever! Thank you for the trust and support you have bestowed on us. Any suggestions and questions from you are most welcome.